A SnackGenius puts together a box of healthy snacks based on the preferences you select, and then they deliver the snacks straight to your client. Besides the delicious experience of enjoying healthy snacks, you're also giving your clients the gift of not worrying constantly about fueling their ravenous employees.
Specifically of your client's boss, the one who really doesn't like bobble heads.  To be clear, this is a corporate gift for the rest of the office, really. Because they'll be the ones demanding it's the first thing in sight when their boss walks into the office every day.
With the bold and humorous ""Don't touch my snacks..don't even think about it!" clearly statement printed on the jar, your recipient can have his snacks displayed in an interesting manner at his office desk.
Kits like 23 And Me have become massively popular – inspiring strange fun that quickly turns to something more profound.  But while it might be awkward to give to, say the new energy drink rep you've known for two months, it would be embraced by Michael, the finance advisor who was at your wedding.  And maybe even enjoyed himself a lot there.  Call this one a gift from family to family.
Solgaard's Lifepack isn't just another backpack.  With a retractable lock, water resistance, and pockets inside of pockets behind pockets, it's equipped to handle just about any adventure you can.  What's more, its patented Solarbank charges your phone as you go, with nothing but the power of the sun.  It's a unique corporate gift idea disguised as a standard one, and it'll be the new standard for whoever you gift it to.
For a corporate gift that brings the festival itself into the office (or, more than likely, somewhere adjacent), throw your client's company a silent disco, either as a bizarrely giddy lunch time escape, or a Happy Hour for the ages (that'll probably last a lot longer than an hour).  Online services like Silent Events supply the office with wifi headphones and in some cases, a DJ, letting everyone get as loud as they want without disturbing the marketing firm below.
You are looking for the perfect gifting experience and we know you have questions before you buy.  Over the years there are a few questions that come up over an over again so let's try to answer them right now for you.
Employees are the backbone of your company. Appreciate their hard work by sending a great corporate holiday gift hampers to their doorstep in USA. Without clients, there is no business. So don't forget them. Order high quality & premium business gift baskets for them for showing the gratefulness you have for them. Our gifts come in every budget. We provide customization as per your request on every product. Buy Stuffed animals for animal lovers.
The best thing about our Christmas promotional items? You can shop for them any time of year! Whether you want to get a head start on your company's holiday giveaway, need last minute Christmas promotional gifts, or are throwing a Christmas in July party, Motivators has lots of choices that will spread cheer and fun.
The PROMOTIONAL CORPORATE GIFTS below include selections from our major categories that are a bit pricier and designed for executives. Did you know that we are a source for upscale retail brands of luggage and other luxury goods? Call us to find out about the upscale brands we carry. Be sure to browse the complete collections of Technology, Writing, Drinkware, Kitchen & Home, Food & Wine, etc. to find our complete collections. If you need help, an Empire account rep is ready to assist you.
Barrister Auto Open Umbrella. "A great little give away! Two different customers of mine ordered these. One was for a company promotional give away for their employees. The other was for the alumni of a school as gifts. They looked very classy and I was impressed with the quality especially for the price."
Promotional items are cost-effective gifts for any occasion including holidays, anniversaries, and appreciation or recognition events. MARCO Promos offers a huge selection of gift items that can be customized with your company's logo while fitting any corporate marketing budget.
The use of marketing and advertising products is in great demand worldwide. The Promotional Product Experts mainly services clients within Australia. We supply all areas of Australia including capital cities and regional areas of: Melbourne (VIC, Victoria), Sydney (NSW, New South Wales), Brisbane (QLD, Queensland), Adelaide (SA South Australia), Perth (WA, Western Australia), Darwin (NT Northern Territory), Hobart (TAS, Tasmania) and Canberra (ACT, Australian Capital Territory).
Blankets Book Marks Calendars Candles Card Holders Cards Christmas Clothing and Textiles Christmas Jumpers Christmas Stockings Coffee Sets Gift Sets Gifts Keyrings Lights Mugs Pens Promotional Christmas Chocolate, Sweets And Treats Promotional Christmas Decorations Promotional Christmas Hampers Promotional Christmas Power Banks and Usb Stress Items Toys
Do we even need to state the benefits of sending the finest cheese plate you can find, with your client's company logo chiseled on top, along with everything else?  It's the kind of OCD attention to detail they'll more than appreciate – they'll take it to heart.  Alongside their stomach.
Thank your clients for their loyalty with a delicious bouquet of color, chocolate and sweet delight from Edible Arrangements. These fruit-based concoctions feature fruit in the shape of flowers, dipped in chocolate and will please any client you work with. Depending on the size of the client's office, you can choose from a range of small arrangements to large that come with a personalized note.
We want to help you cut through the corporate gifting noise. Our boxes are filled with goods your clients will actually use. We know, because we use 'em too. You'll find everything from barware and kitchen sets, to travel and dopp kits. Our shop is also fully stocked to cover all your bases. We're confident you'll find great corporate gifts for clients. Interested? Shoot us a note at concierge@bespokepost.com to get started.
We serve clients in various industries, from agriculture and construction to hospitality and healthcare and beyond. Whether you need a few personalized gifts for clients, 10,000 custom T-Shirts for your company's next big event or an entire brand solution program tailored to your business, trust the creative experts here at Staples Promotional Products to help meet all of your marketing and advertising needs.
Here's how it works as a gift: you pay for one of Fancy Hand's service packages…and your client gets the gift of a finished to-do list. All they have to do is send in their list, and someone will take care of it, no matter what time of day they send the request.
Personalize your client's desk with this sleek wooden handmade item, which will hold their sticky notes. The Etsy seller notes they can use one, two or three initials, so if you don't feel like prying into their namesake, you can use the initials you know. No need to stress about packaging it, it comes ready for gift giving packaged in a gift box.
Made of durable cotton canvas and with a comfortable handle for easy carrying, she can enjoy her gardening with all the handy tools in one place.  There are ample external and interior pockets for her to keep her tools, seeds and so on.
Know someone who is mad about chocolate? Then our "Chocolate Madness" gift basket is the sweetest way to their heart. But beware, this gift basket offers such a generous supply of indulgent treats it could push even the most die-hard chocoholic over the edge! Learn More
Besides aiding in keeping the office tidy, luxurious paperweights, for example the crystal collectibles, can also add a touch of elegance in the office.  The paperweights vary in designs, textures and even colors.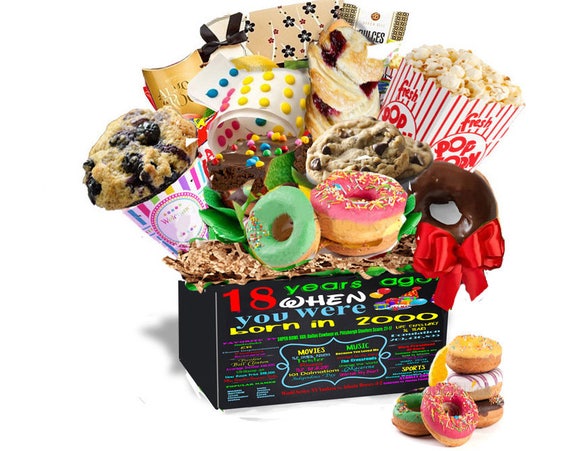 Best Corporate Gift Ideas

Business Holiday Gift
Baskets
Corporate And Promotional Gifts
Corporate Branded Christmas Gifts
Corporate Gift Shop Online
Of course, on the flip side of helping your client lose themselves in the music, simply memorializing their good time goes a long way towards helping them find themselves.  Bring a photo booth into their office for the next big party, taking whatever theme they've got planned to the next level.  Mobile photo booth services have popped up all around the country, allowing you to book a unique backdrop and set-up that won't just capture moments, but might just inspire a few of its own.
With this service, you can choose from a variety of different gift boxes that are designed to give the recipient a special taste of a faraway place with information, photos and even foods from different locales.
We know your customers, clients, and colleagues are all an important part of your successful business all year long. That's why our selection of business gifts will help you leave a lasting impression. Whether you're looking to motivate your sales team, reward or incentivize employees, grow your business, or thank clients, Hickory Farms has the perfect gift for any occasion and every budget.
This new Holiday Gift Basket is a favorite around here! It is simply a gorgeous gift filled with a host of scrumptious and hard to find gourmet treats for the holidays! It would make a great gift for Thanksgiving, Christmas, a birthday, or pretty much any occasion. Learn More
Might sound overly simple, but for this kind of an office, keeping a giant wall calendar is a way to bring things back to basics – namely, making sure your client doesn't miss their next call with you due to a very important VR session.  And while you're at it, pencil in National Eat At A Food Truck Day – chances are this is the kind of workplace that'll appreciate that.
*The $30 savings is valid on first-time orders of $200 or more. The $60 savings is valid on first-time orders of $400 or more. The $120 savings is valid on first-time orders of $800 or more. The valid savings amount will be credited on orders at time of order processing and the credit amount will be acknowledged. Discount is not valid on past purchases and may not be combined with other promotions, offers or sales/closeouts and applies to product cost only. One discount per customer.
You can order your corporate gift in our online shop or email us directly at info@ehchocolatier.com. All of our chocolates are handcrafted in small batches to ensure freshness so large orders require a three-week lead time.
This corporate gift gives more than laughs too. According to this post, humor can bust stress, build trust, and even inspire more creative thinking. Unfortunately, many people shy away from using humor at work in fear that they might offend someone or get in trouble.
For "writerly" types or someone who likes to jot down stuff on pen and paper, a leather journal makes a thoughtful and expensive corporate gift. Journals are personal items, so swing for custom gold embossed personalization with their initials on the cover.
To give your client the benefits of self-care without taking them away from work, give them a massage seat cover that'll bring tension relief straight home to them.  From heating to chilling to rolling, there's a feature to fix just about any ailment, all while they knock out their mornings emails.
While this gift is incredible in the moment, the real gift is the chance to get hooked on meditation, a practice proven numerous times to have incredible benefits, like decreasing stress, increasing self awareness and even managing high blood pressure.
If your boss or colleague is a collector of ornaments or trinkets, show them that you're interested in their hobby by purchasing a luxury display box. This corporate gift is a great choice because you will be enhancing their most cherished items.
When you're looking for the right business gift basket to give to employees, clients or colleagues, GiftTree is the perfect solution. Filled to the brim with a generous spread of gourmet chocolates, cheeses, wine, champagne and more, our unique corporate gift baskets are built with our hearts and hands using exclusive containers that are built to endure and look beautiful, guaranteed to leave a lasting impression.
Already Have an Idea in Mind? We've made it easy for you to find. Choose the perfect gift from our collections featuring gourmet favorites, wine, champagne, fruit, chocolate and more. Shop Gifts By Type >